In the past two years, the mini 5 axis CNC machine HY-3040 are well received. And also, users meet some problems such as no post processing, intergrated drive boards breakdown, with no USB connection, too small load for 5th axis and some other problems. In order to better meet the demand of our valuable users, ChinaCNCzone re-design the mini 5 axis CNC machine, now,all above resolved.
What are new for this 5 axis CNC router machine HY 3040?
First, Each axis is with independent driver,totally 5 independent drivers for 5 axis, bring high accuracy, speedy heat dissipation, longer using life, stable and efficient signal transmission.
Second, Support USB connection, easy to operate.
Third, UG and PowerMill post processing can be free provided(Only compatible with ChinaCNCzone made mini 5 Axis CNC machine, if you do it by yourself, it will take about 2-4 days.)
Fourth, Larger step motor for A and B axis,which can hold the A,B axis steady without vibration when machining aluminum and other harder materials.
Fifth, provide test G-code Free and charge 200USD for special customized G-code design for mini 5 axis CNC router machine.
Sixth, use stainless steel for water tank, with longer service time.
More Pictures for this new 5 axis CNC router machine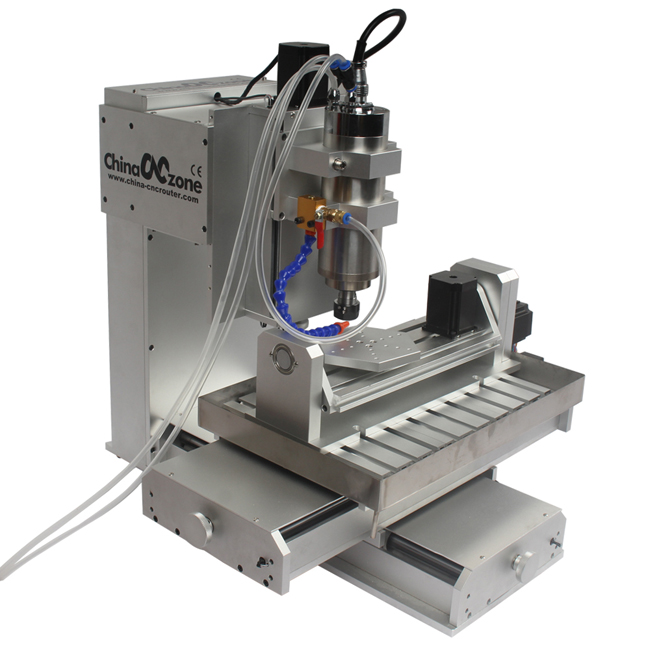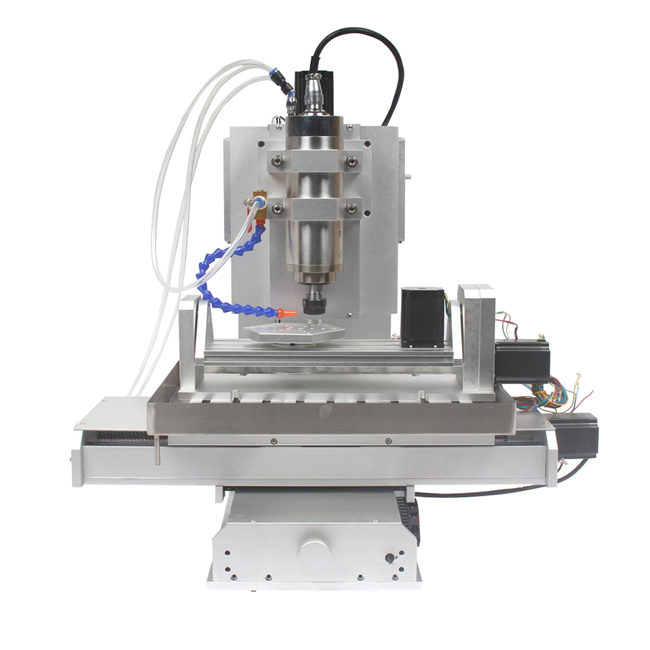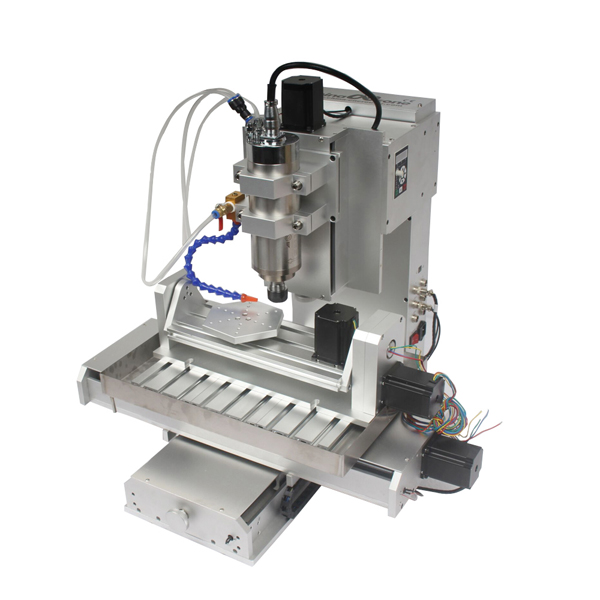 What are the main features for this New 5 axis CNC router machine?
Most competitive mini 5 axis CNC router machine in the market price less 3000USD.

From factory with reliable and professional technical support.

It can work with 3 axis / 4 axis / 5 axis, just as you like !

With external digital LCD monitor and can be controlled by handwheel.(need to buy the handwheel)

The working process can be tracked, recorded in the digital LCD monitor automatically.

Mach 3 software

Built in frequencey converter.

Cross slippery platform, high precison.

Aluminum base sheet which can reduce vibration when working.

With auto-checking function.

1500w/2200W water-cooled spindle for your selection.

Ball screw.

CE approved.

Video support.

English manual available.

Can engrave material which hardness below 45.

USB connection

Post processing available for this new 5 axis CNC router machine hy 3040



What are the prameters for this 5 axis CNC router machine?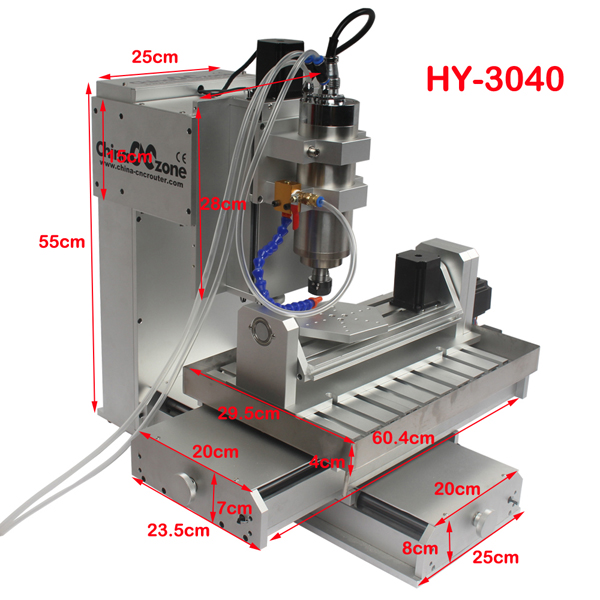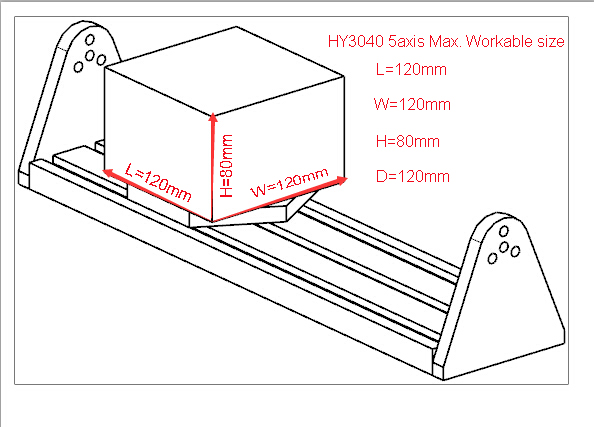 New 5 Axis CNC Router Machine HY-3040 parameters

product dimension

715(H)*700(L)*610(W) mm

effective work area

300*400*150mm

precision ballscrew

1605

XYZ rail material

hard chrome shaft

XY rail diameter

20mm

Z rail diameter

16mm

XYZ axis torque

57*78 250 OZ/IN (2.2N/CM)

4th and 5th

57*56

4th and 5th transmission ratio

1:6

repeat positioning accuracy

0.01mm

working precision

0.02mm

processing speed

0-4000 mm/min

A-axis B-axis rotation speed

0-180 rpm/min

XY table maximum load

50kg

XY+A+B axis table maximum load

15kg

tailgate material

stainless steel

switching power supply

integrated 24V 350W

spindle power

1500W/ 2200W water-cooled frequency spindle

input power

220V/ 110V power supply

output current

drive 4.5A (peak 5A)

collet size

3/3.175/6mm if need others change into ER11 first

high efficiency water pump

55W, 46.6L /Min

drive motor

57*78 stepper motors (two-phase 4 wire)

engraving material

Metal,Brass, Acrylic, Wood, Aluminum, Stainless Steel

(hardness less then 45 degree)

support computer system

windowXP/ window 7

how to connect with computer

USB connection

software

MACH3 3.04

net weight

50kg

packing

wooden box

outside packing

80*74*90 (cm)

weight

95kg
Where this 5 axis CNC router machine HY 3040 can be used?
mainly used for PVC, acrylic, plexiglass, two-color board, engineering plastics, bakelite, solid wood and soft metal materials on the milling and milling, graphite electrode processing, also applies to engraving PCB circuit board, wood Model molds, handicrafts, can be used to drill holes in plastic boxes, aluminum alloy chassis, and panels that do not exceed the limited specifications, and can also perform three-dimensional engraving and drilling and milling of aluminum alloys, copper and other metal materials at low feed rates; It can be used as a simple 3D CNC workbench, such as CNC dispensing, CNC positioning, metal (nameplate) marking and other applications.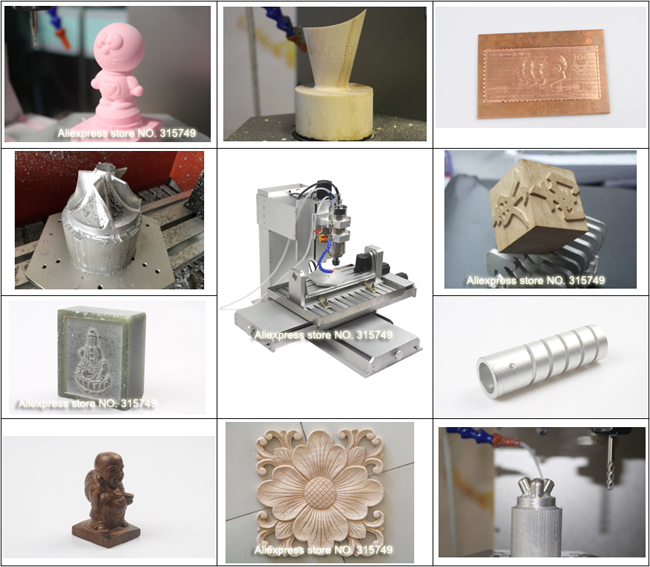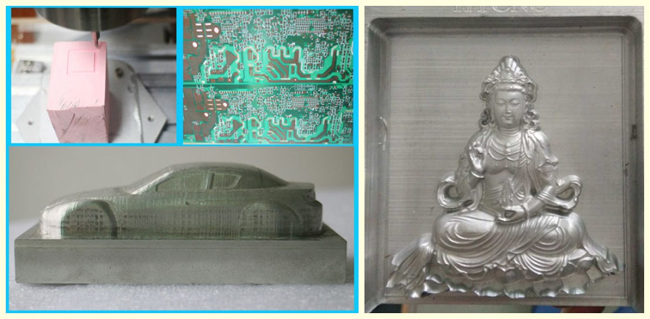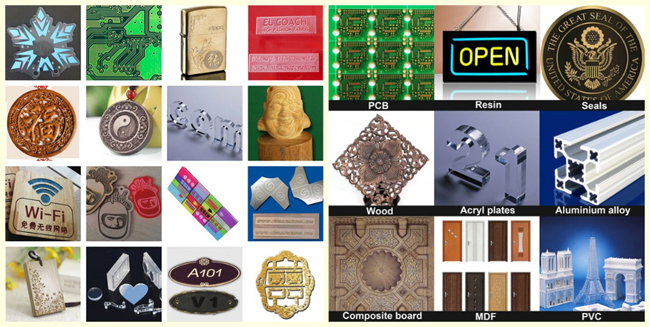 The packing for this 5 axis CNC router machine hy 3040
Wooden box